Ok ladies, now that I have Ava's shoes done I'm getting a lot more motivation and hope to start knocking these out. I wanted to show you the leather packs I got for you all. I let the owner of Make Them Yourself put these together for me. The brown you'll see on the very bottom of each pack is the thick leather sole, the gray on top of that is a soft suede like fabric for the lining of the shoes. Some of the color combinations are quite fun so I can't wait coming up with different designs.
Girl Testers:
I plan on making Mary Janes for you. Due to the style of MJs you won't get characters/designs appliqued on. You will have variations of the Mary Jane shoes I made for Ava. IF you would prefer a shoe style contact me ASAP as I will be finishing the cutting tomorrow night. Once it's cut, it's cut. Thank you!
Boy Testers:
You will have the regular shoe styles with assorted applique on top. I will determine the character/design based on the colors in your pack. If, after seeing your color choices you have an idea let me know. I won't start cutting the applique until all the shoe bases are cut out.
BONUS: If you become a follower I will include an extra surprise with your shoes when I ship them!
1. nosweetangel
Colors: Black, grey, dark burgandy
Shoe Size: Infant, 6W
Status: Need to cut (size changed)
Applique:
Waterproof: Yes
follower bonus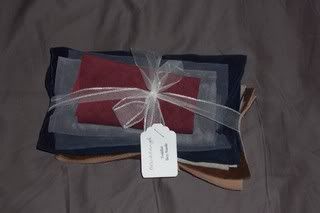 2. Living4Him
Colors: Aqua, pinks, browns
Shoe Size: Infant, no size given yet
Applique: N/A, Mary Jane Shoe
Waterproof:
3. virginia+3
Colors: Brown, tans, black
Shoe Size: Infant, Measurements: 3.5" x 1 3/4" (Size 2)
Status: Leather cut, ready to sew
Applique: requested teddy bear
Waterproof:
follower bonus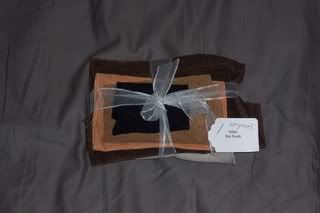 4. curious_one
Colors: Blue, red, yellow, green, white, black
Shoe Size: Infant, 5 wide
Status: Leather cut, ready to sew
Applique: requested balloons
Waterproof: Yes
follower bonus
5. VanessaJ
Colors: light spring green, multi pinks
Shoe Size: Infant, 5
Status: Leather cut, ready to sew
Applique: N/A, Mary Jane Shoe
Waterproof:
follower bonus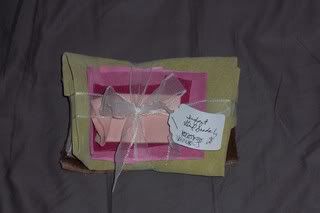 6. ITZALLFORME
Colors: Red, tan, blue
Shoe Size: Infant, 4
Status: Need to cut
Applique: Requested Bear/Heart, Mary Jane Shoe, diff color scheme (white/purple on hand)
Waterproof:
7. Babies
Colors: Pink, spring green, multi pinks
Shoe Size: Toddler, 6
Status: Need to cut (size changed)
Applique: N/A, Mary Jane Shoe
Waterproof:
follower bonus
8. HeatherJ (traded a tester spot for a soft cloth doll)
Colors: Girl - Red, white, green, yellow, coral; Boy - Black, tans, multi blues
Shoe Size: Girl - Infant, Measurements 5" x 2.5"; Boy - Toddler, 9
Status: Leather cut, ready to sew
Applique: Boy - Requested Horses, Girl - N/A, Mary Jane Shoe
Waterproof:
follower bonus