I just have to say, I love working with wool. It is so easy on the hands and when you get the opportunity to work with great artisans and their hand dyed wool it really can't get much better than this!
These are a custom for Amanda. I haven't completed the drawstring but I couldn't wait to share the pictures. They have a 4 1/2" inseam and not only will they be perfect for a warm Texas winter around the house but they'll be great for out and about in the summertime!
These capris were made from the Ladybugz Farm Morning Glory pattern and I just adjusted the inseam to create capris instead of longies. This pattern gives me so much flexibility to create unique one of a kind pieces and is so easy to follow. I have a cottage license for this pattern only but hope to obtain the licenses for all her other patterns in the near future. Make sure to check her out on my Fave Places list. The yarn is hand dyed yarn from
Mosaic Moon
on Bulky BFL. Scrumptious!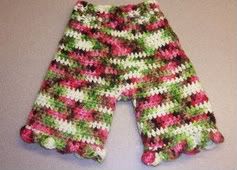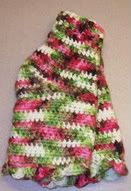 Here is a close up of the edging, I love this shell edging.